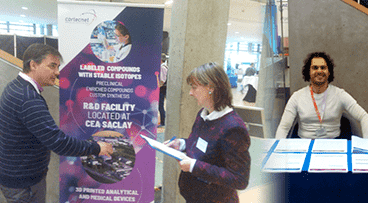 The European Proteomics Association hosted its 13th congress in Potsdam, Germany on March 24 to 28.
The EuPA congress is a unique opportunity to discuss and meet experts in various disciplines of the proteomics field, including research and applications professionals. This year, more than 400 scientists coming from all over the world visited the congress.
This 13th edition was first Cortecnet's time at the event. Our range of 13C or 18O enriched compounds for both metabolic and chemical labeling of proteins was particularly successful, as well as our labeled amino acids range of products.
If you have missed us at the EuPA congress, you can still visit our online pages dedicated to SILAC, dimethyl labeling and peptide synthesis.
See you next year at the EuPA 2020!